Innovating the World of UAVs
SilentWings Provides Unprecendented Technology and Safety Standards
The intended purpose of the SilentWings GmbH is to provide a highly autonomous vertical take-off and landing, fixed wing and long range UAV for easy flight approval for all kind of applications. Using a highly developed safety concept we offer the most secure UAV in our market segment available at the moment. A fuel cell is used as range extender as well as a low structure weight, allowing high payload (up to 10 kg) and long range (up to 700 km).

For the costumer purposes we offer a large cargo area with a high power energy supply. The cargo area can be flexible adapted to various cargo options (e.g. cameras, medical cargo, sensors).
Our UAV system provides the following properties:
Vertical take-off and landing
Fully electric and powered by fuel cells
Long range (up to 700 km)
High endurance (up to 6 h)
High payload (up to 10 kg)
Low maximum take-off weight (35 kg)
Several mechanic and electric redundancies
Complete rescue system (included in the empty weight)
120 W (12 V) constant energy supply for customer use
Large cargo area up to size (LxWxH) 360mm x 200mm x 85mm
A set of data links (2.4 GHz, satellite communication, LTE)
Surveying and mapping of large areas
Climate and Atmospheric Research
Disaster Management
Fire, Earthquake, Flood, etc.
Inspection of Large Infrastructure
Power Lines, Oil Pipelines, Borders, etc.
For the UAV system we have designed our own aerodynamic and structural layout. The UAV consists of full composite fuselage and wing to achieve low weight and high durability. Thereby the system is very robust for the daily use also under rough conditions, both in the air and on the ground.
The new VTOL method is performed using a sequence of rotational and aerodynamic transitions. Advantages of the new VTOL method are:
Reduced necessary thrust force of the propellers required per kilogram weight of the UAV
Decreased empty weight of the UAV → increased payload weight
Increased efficiency of the engines and propellers → increased range
Safety Concept
To utilize UAVs commercially, high safety standards are necessary to fulfill worldwide legal regulations. To meet the aviation regulations, we developed our own safety design specially made to get the UAV licensed all over the world. While being airborne a triple redundant flight controller is installed. In total we offer the following safety measures:
Triple redundant flight controller
Every control surface has at least one redundant control surface
Two links for command and control (C2)
Two different energy sources for electric engines (including a highly self-redundant fuel cell)
Three independent energy sources for the flight controller, the control surfaces, GPS, C2 link and safety system
High robustness in air and on the ground
2 Cameras to observe surrounding aviation activities during flight
If desired, we do the flight approval licensing for the customer
kilograms take off weight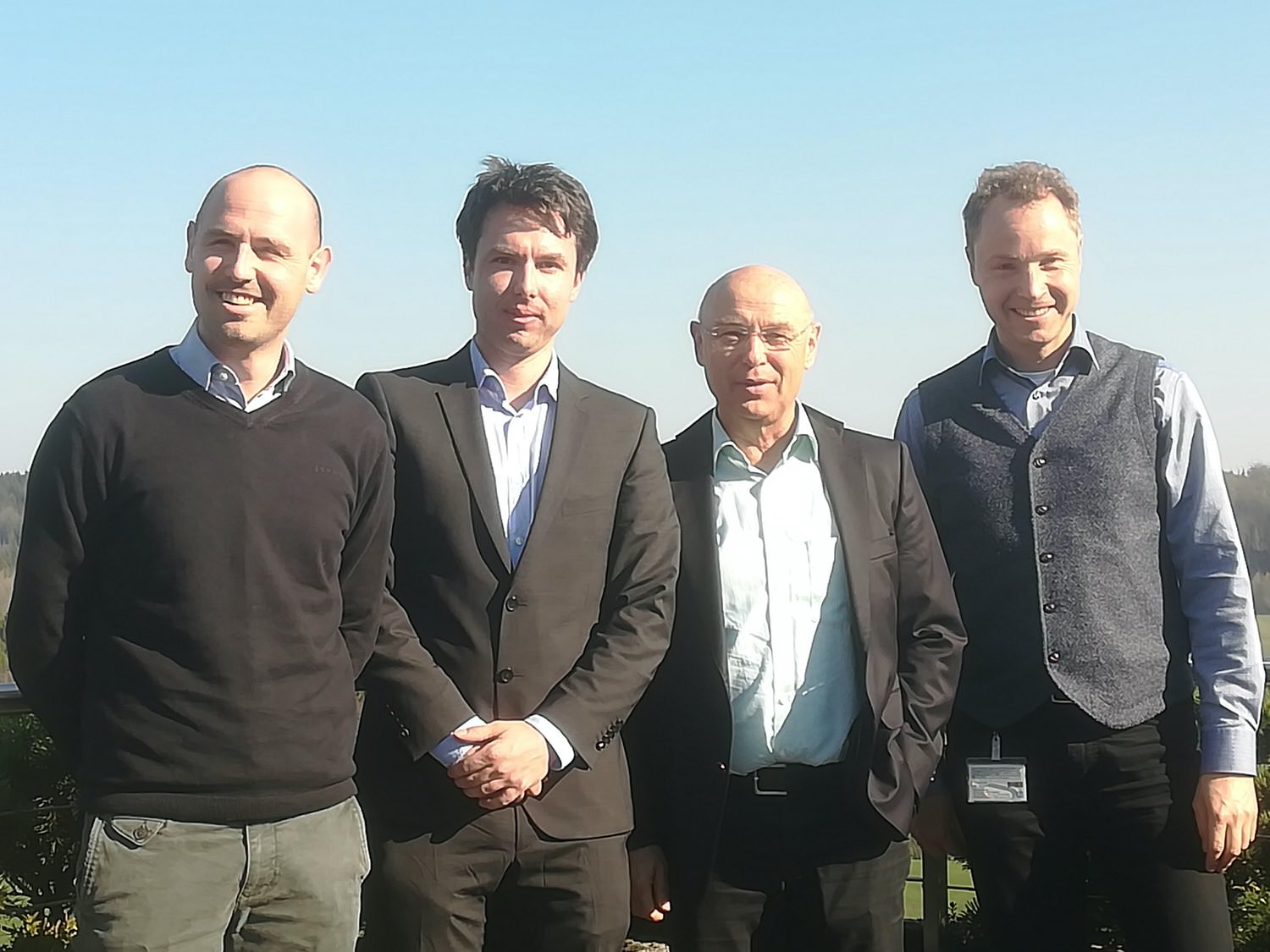 Founders of SilentWings, from left to right: Stefan Schneider (CEO TQ Systems), Dr. Stefan Mändl (CEO SilentWings), Detlef Schneider (CEO TQ Systems), Rüdiger Stahl (CEO TQ Systems)
SilentWings GmbH was founded end of 2018 by Dr. Stefan Mändl and the TQ Group GmbH for the development of a high end UAV powered by fuel cells. SilentWings is a complete German based company.
Dr. Stefan Mändl studied in the field of physics and finished with a master and doctoral degree in experimental condensed matter. Beside these studies Dr. Stefan Mändl is active in aeromodelling, including competitions, since 20 years. A lot of experience was gained in designing, building and flying UAVs. He started in a highly technology driven class and learned to build UAVs made from composite material. For propulsion electric engines were used and pushed to their limit to obtain maximum power and efficiency. Consecutively he switched to acrobatic flight. Very precise flying is necessary to perform complex figures with high accuracy. TQ Systems GmbH is a worldwide well-known company for electronic devices and electric engines located in Bavaria. TQ Systems GmbH provides high-end products in the areas of medicine, aviation and robotics.
The support of TQ Systems GmbH is not only financially very helpful, but the management of SilentWings takes also profit in business, legal and technical issues from the long-term experience of their employees and the management board.